Announcing auto-generated Reports
And with that we are launching v1 of a new feature: Auto-generated reports.
It will replace our old Report and Funnel feature (both features will still stay available for existing users for now).
Introducing Auto-generated reports
To serve B2B SaaS companies best, we started to think in use cases. We identified specific activities (we call that use case) growth teams at B2B SaaS companies do in order to achieve their north start goal, which is growing their MRR.
Growth teams do all kind of different activities in order to grow MRR. To be more specific, Wildmetrics focuses on the customer journey. Each auto-generated report of Wildmetrics focuses on a use cases to improve the customer journey to grow MRR faster. Here is a list of use cases we want to focus on now.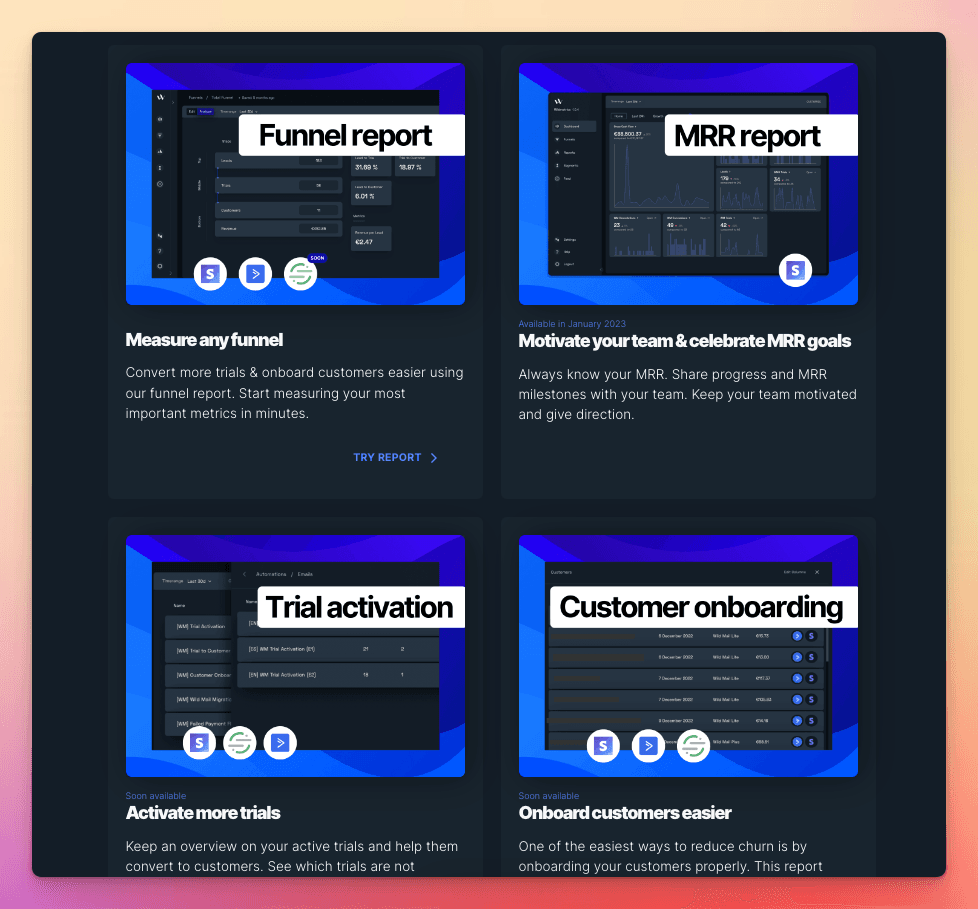 We have a roadmap for our next reports (use cases):
MRR report (share progress and MRR milestones with your team. Keep your team motivated and give direction)

Trial activation (keep an overview on your active trials and help them convert to customers)

Customer onboarding (reduce your churn by identifying new customers that need extra help during onboarding)
Funnel report v1
The first use case we built is the "Funnel report" to help you convert more trials & onboard customers easier. You can start measuring your most important metrics in minutes.
What can you do with version of #1 of our Funnel report?
The Funnel report currently works with ActiveCampaign as a data source. You can use ActriveCampaign tags to set-up the steps of your customer journey like this: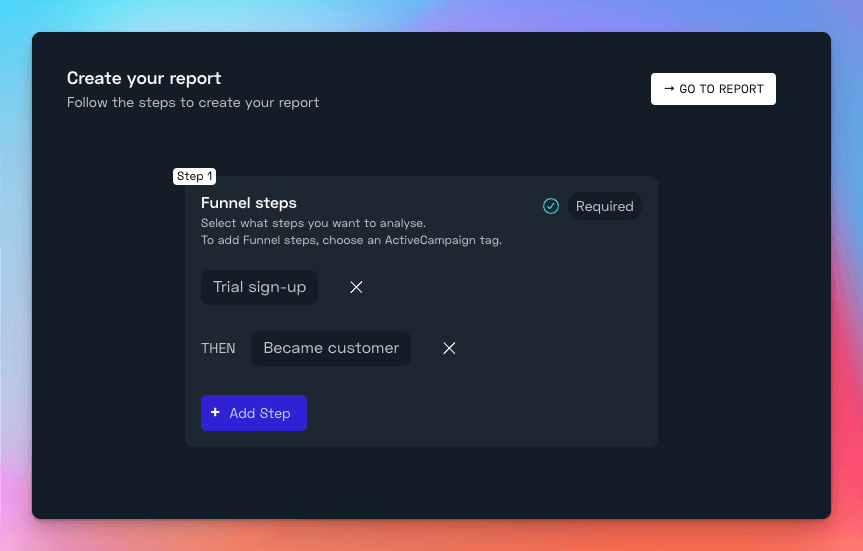 We are right now working on adding Segment and Stripe to the Funnel report. You should see them very, very soon. Segment will allow you to select funnel steps using Segment events and Stripe will add revenue data to the report.
After you have set-up your funnel you will see the conversion rate of your funnel like this: 
v1 only supports one single metric, which is Total funnel conversion rate. We will add new metrics like sales cycle length, avg. sales price, MRR in the next few weeks. 
v1 also does not support a date-picker, so we hard-coded "Last 3 months" as a time frame. Right now this can not be changed.